Seth
She/they, Minor, Demigirl, Biromantic Demisexual, Artist, Editor, Voice Actress, Flutist, ISFP, ADD
Hey hey hey!
Heya everyone! I'm Seth! I'm a minor who uses she/they pronouns! I am a biromantic demisexual demigirl also! I do a lot of artistic things in my freetime like drawing, editing, voice acting and more! I am neurodivergent and tone tags are always helpful! My main fandoms are danganronpa, danganronpa fangames, Bandori and sailor moon! My main music tastes are Afterglow, Harohapi, Mother Mother, lemon demon, beach bunny and a few others! My dms are currently open so feel free to talk to me!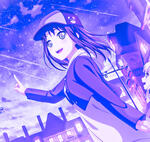 Note: J isn't a delusion but I don't feel comfy labeling her as a kin at all. Sometimes I refer to myself as her (my sis calls me J the gay) and so please keep this in mind. Also if I post J I tag myself and put meinthe(thing). Doubles are ok but don't bring this up.
Doubles are welcome for all!
Also, I do kin to cope so please don't make fun of me or mock me for these.
My kin list
Me irl: Kiyoka Maki, Maiko Kagura, CHU2, Misaki Okusawa, Nanami Hiromachi,
High: Himari Uehara, Yamato Kisargi, Kaede Akamatsu, Kaito Momota, Tanya Loman, Sonia Nevermind, Akeru Yokuza, Yukimari Koime, LOCK, Ako Udugawa, Satsuki Iranmi, Haruhiko kobashikawa, Teruya Ōtori, Veronika
Grebenshichokova, Hina Hikawa, Lisa Imai, Komaru Naegi
Medium: Ibuki Mioda, Hajime Hinata, Hibiki Otonokoji, Emma Marogrobi, Ayumu Fujimori, Setsuka Chiebukuro
Low: Iroha Nijiue, Akane Owari
My comfort characters/ships (there's a lot so here's a few)
Characters:
-Iroha Nijiue
-Akane Tiara
-Chaiki nanami
-Satsuki Iranmi
-Everyone in afterglow
-Aya Mayuruma
-Kokoro Tsurumaki
-Kanon Matsurba
-Lisa Imai
-Rinko shirokane
-Rokka Asahi
Ships:
-Tomohima
-Akorinko
-Mitsoka
-Saimatsu
-Soudabuki
-Chimondo
-Mayaeve
-Misakanon
-Misakoko
-Etsoko
-Yukilisa
-Masurokka
-Parechu
Triggers and Discomforts
Triggers
-The name Leo
-Ants
-The word perfect
-Being told I failed/am a failure
Discomforts
-Saiouma
-Irumatsu
-The name brysen
-The name Xander
-Initials written in hearts
BYF
~Often I put - at the end of a sentence
~I do sometimes like to send random images in my gallery when I'm bored. I always keep peoples triggers/discomforts in mind when doing so
~If I ever wanna make a textpost based off of a conversation we had I will always ask you if it's ok to post.
Things we shouldn't interact due to...
DNI
-Basic DNI criteria
-Your name is Leo
-You often post about my triggers
-You're over 18. (Unless I follow first)
-You know me irl and I don't like you
-You're gonna bash on my comforts
-Don't believe demisexuality is real
My socials
Here is where you can contact me!
Instagram: sethisvibingatthecorner
YouTube: sethisvibingatthecorner
DeviantArt: latteorseth
Scratch: ThatLatteGirl
Tellonym: effectsbisexual
Adobe Bēhance: Seth Roselia